So if you're related to me, you better not be reading this!
For Christmas my mom talked me into making scarves for our ENTIRE family. I figured it wouldn't be too bad. I can knit up a scarf in a day or two.
WRONG!
I am so tired of this scarf. I'm only like a fourth of the way done with it, and I'm so bored with it! As soon as I finish my mary jane slippers I MUST start working on this again. I have to do 31 scarves. 31!!! I can't even finish 1! This is going to be so crazy.
Well here it is so far: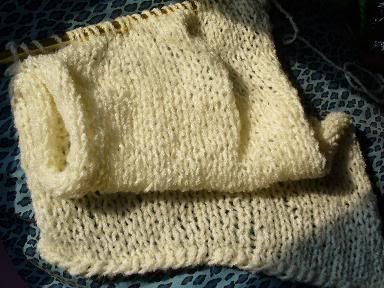 I'm using some unknown yarn. It's cheap (acrylic), but surprisingly very soft.
Anyway, here's a cute little mp3 cozy I knitted a couple of days ago. Just for fun.
I love turquoise and pink together.
Current WIPS:

Grandma's Scarf *ugh*
Mary Jane Slippers (almost done with the 1st one)