So I haven't really been knitting anything new, just working on my grandma's scarf. I figured I would show off the knitting needle roll my mom made me. I picked out the fabric and told her how to do it, and she sewed it for me. She even made 2 bigger pockets for my circulars and some small things like yarn needles. My sewing skills basically suck.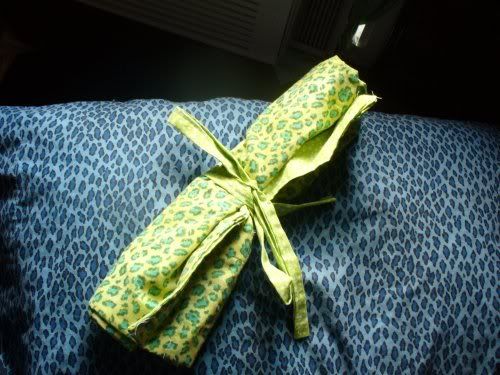 Anyway, I've been thinking of knitting a raincloud, after being inspired by
this one
at Mochimochi. Mine will be different though, but I haven't really thought out a design yet. I'm thinking of putting lightning on it as well. I'm sure pictures will be coming soon enough.
I've been cleaning/re-organizing my room so I can have a craft area. It looks horrible now, but hopefully I'll be able to post pictures of my new crafting zone soon (which includes a Johnny Depp poster!)
Current WIPs:
Grandma's Scarf
Mary Janes
Designing raincloud