I haven't posted in a week. I've been insanely busy with birthday stuff and getting ready to go back to school. My box of yarn came on Saturday! I've never received such an awesome package in the mail before!
Isn't it beautiful! I'm so excited.
I haven't decided on a yarn for my practice sweater yet. I want it to be cheap, but still pretty enough to wear. I can't wait to get started on the real one though.
I also completed a newsboy cap on Sunday. It didn't turn out exactly like the picture in the pattern, because the yarn I used was thicker, but it's still really cute.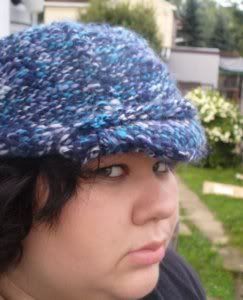 I'm kinda thinking it would look good with ear flaps, but I'm not sure. I'll see how much yarn I have left.
The brim is kinda folded down a little in this picture, but oh well. It's really comfy. I'm planning on making a pair of fold over mittens to match.
Anyway, I think that's it for now. Comments, as always, are love <3