Here's my latest project. I designed it myself, but that doesn't really mean much since it was so easy! The buttons came from a woman that was friends with my grandma. Aren't they gorgeous? I think they go really well with the yellow of the yarn. Oh, and see that pretty teapot and platter that the tampon case is on? That's my latest yard sale purchase. I got the set for $12. It's so beautiful. It has a Chinese dragon on both sides and on the platter, and it's hand painted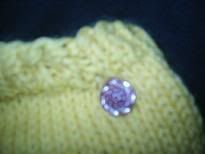 You can fit quite a few tampons in here. It's pictured with 4, but there is plenty room for more. It's about 3" x 6 1/2". If anyone would like the directions on how to do this, I'd be more than willing to post them here, but really, it's one of the easiest things in the world to make.
I've also casted on for my House Sweater! I'll post pictures once I've gotten a few more rows done.
Also, thanks for all the kind comments on my last post! Now that I'm back in school and have gotten used to it I feel a lot better. I guess I just had a case of the back to school blues.